For years now, Mozilla's localization efforts had been using Pootle as the Community Localization Server. MozillaPH L10n has been religiously submitting translation suggestions and commits through the Mozilla Translation website powered by Pootle until two (02) days ago.
The MozillaPH L10n Team leadership decide to move all of the current localization and translation efforts to Pontoon with immediate effect.
"Pontoon allows you to localise web content in place, with context and spatial limitations right in front of you."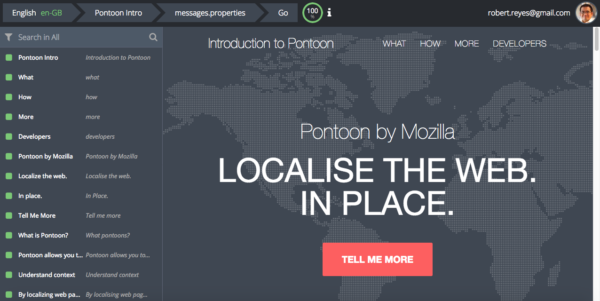 Pontoon is a localization/translation tool developed by Mozilla.
MozillaPH L10n Team will now work on Pontoon as the single localization and translation tool for the following projects (products and websites):
Firefox Aurora
Firefox for Android Aurora
Firefox for iOS
Mozilla Learning Network
Mozilla.org
Pocket
Pontoon Intro
Getting started with Pontoon is as easy as going to this site [https://pontoon.mozilla.org/tl/] and clicking on the SIGN IN link at the site's menu. You will then be asked for your Mozilla Persona account credentials to login.
The team recently launch the Localization Style Guide for Tagalog. A series of training events and meetups related to this development will be scheduled at the Mozilla Community Space Manila in the following weeks.