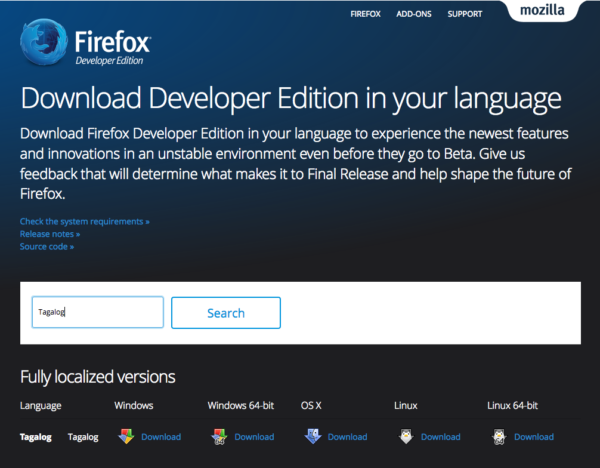 After years of translation activities, and switch to several platforms and tools, we are happy to announce the availability of the localized version of Firefox Developer Edition in Tagalog!
This version (in Tagalog/Filipino) is not yet final. We are still in the process of completing the translation of the entire software to Tagalog/Filipino. But at least, we can now test and find areas to improve on the localization of the browser. This build of Firefox is available for Windows, Windows 64-bit, OS X, Linux, and Linux 64-bit.
Firefox Developer Edition in Tagalog is not the very first Mozilla browser to be translated/localized. A couple of months ago, we shipped Firefox for iOS with Tagalog as a language option.
With this milestone, we say "Thank you!" (Maraming salamat po!) to our past and present localizers, who had spent countless hours translating thousands of strings from English to Tagalog/Filipino over this couple of years. This is not the end of our localization efforts; this is but just the beginning (we are just at the 34% completion mark for Firefox Developer in Tagalog). Thank you, too to our every patient and helpful Technical Adviser Ben Hearsum!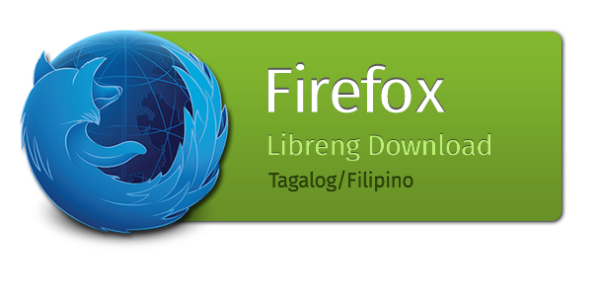 Stay tuned for more awesome stuff from the MozillaPH Localization Team. Tuluy-tuloy lang ang pagsasalin ng Firefox sa Tagalog/Filipino. Mabuhay!
NOTE: Tagalog/Filipino Firefox Developer Edition (Aurora) landed some 10 days ago as mentioned in this blog post.