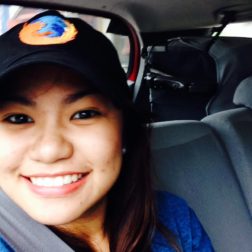 The Mozilla Philippines Community is happy and proud to announce the acceptance of Ms. Erika Aurea Gatmaitan (simply Erika to most tech communities in the Philippines) as the latest addition to the roster of Pinoy (or shall we say, Pinay) Mozilla Reps in the country.
Erika's journey of being a Mozillian started around four years ago when she joined the Firefox Student Ambassador (FSA) Program while still studying at the Far Eastern University (FEU) Makati. It was during her stint as an FSA where she was invited to attend the Mozilla Summit in Santa Clara, California last October 2013.
Since then, she has been actively participating in various campaigns and events of the local Mozilla Community related to development, mobile and IoT. Erika made a mark within the local technology scene when right out of college, she was hired by one of the leading telco's in the country as their Developer Community Manager. A very abled proponent of women empowerment, Erika has been instrumental in organizing several WoMoz-related events in the country, the latest of which was in Q1 of 2016 at her Alma Mater.
Her skills on Program Management and Systems Architecture landed her a post as Citizenship Expert from the same company which hired her right after college graduation.
Erika will be the very first Philippine-based Mozilla Rep to be coached by a Reps Mentor under the new program structure.
Fellow Mozillians, please join us in welcoming Erika to the ranks of Pinoy Mozilla Reps. Mabuhay!