Mozilla, in an official company blog post late Wednesday night (Manila time), Mozilla released a new company logo after almost a year since the organization called out in the open for ideas on how their refreshed brand experience should look like.
"At the core of this (rebranding) project is the need for Mozilla's purpose and brand to be better understood by more people. We want to be known as the champions for a healthy Internet. An Internet where we are all free to explore and discover and create and innovate without barriers or limitations. Where power is in the hands of many, not held by few. An Internet where our safety, security and identity are respected."
The organization tapped the services of Typotheque in the Netherlands to create a new font named Zilla. The new font will be free and open to all, according to Mozilla.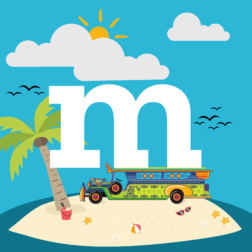 "Our logo with its nod to URL language reinforces that the Internet is at the heart of Mozilla. We are committed to the original intent of the link as the beginning of an unfiltered, unmediated experience into the rich content of the Internet," said the company in announcing the new brand logo.
Different Mozilla communities across the globe, include the Mozilla Philippines Community (MozillaPH) adapted the new logo "m" as part of their social media channel profiles.