It is somewhat customary here in our country that in every event one will attend (be it technical in nature or otherwise), it will end up with a raffle (95% of the time).
How many times had we witnessed that before the actual raffle starts (towards the homestretch of an event), the host or organizer scrambles to think of a way to … do the raffle. You will see organizers running back-and-forth looking for the list of all attendees, while the host buys some time so that the already bored attendees will stay a little bit more and wait for their names be called. And when the host already has the list of attendees, he will flash his/her smartphone to launch Random.org on the mobi's stock browser.
We, ourselves at the Mozilla Philippines Community had experienced the same several times before — and we told ourselves: this must stop … I mean, the scrambling, running, etc. during event raffles.
The Mozilla Philippines Community Dev Team headed by Mozilla Reps Joell Lapitan and Kevin John Ventura are happy and proud to announce the availability of the very first Pinoy-made app found at the Firefox Marketplace: RaffleHat.
RaffleHat is a webapp created using jQuery Mobile and the EventBrite API to facilitate raffles (or draw lots) in an orderly and professional manner. If your event uses EventBrite for registration, simply login with your credentials and RaffleHat will fetch the names of people who bought tickets from you. They will now be automagically included in the raffle. RaffleHat also gives you the option to manually input the names (or values), if ever you are not a fan of EventBrite tickets.
Checkout these awesome screenshots: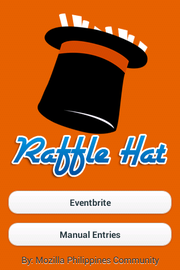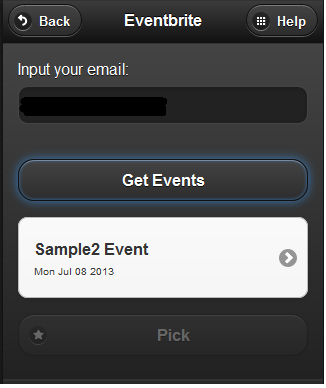 Truly an "app for the community, created by a community."
If you do not have a Firefox OS device (or even the simulator), you can still try RaffleHat out by pointing your web browser to http://kjventura.github.io/rafflehat
Check out RaffleHat at the Firefox Marketplace via
https://marketplace.firefox.com/app/rafflehat
For comments, suggestions, and violent reactions please feel free to get in touch with our Dev Team via http://mozillaph.org/fbdev