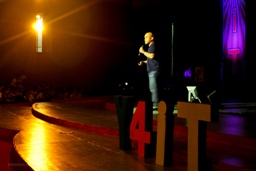 Last week, Mozilla participated at the 8th annual Philippine Youth Congress in Information Technology, more popularly known as the Y4IT Conference, at the University of the Philippines – Diliman. This year's four-day event attracted around 23,000 IT students from all over the Philippines, making it one of the most-attended IT events in the region.
Mozilla was an exhibitor and we had a booth placed at the U.P. Bahay ng Alumni. We also had two speaking slots– one in September 15 at the Bulwagang Tandang Sora (Tandang Sora Theater) and one in the University Theater. For the first talk, around 700 students were present, and for the second talk, around 3,000 folks were in the audience.
For the speaking slots, I talked about the Open Web. I wanted to drive the point effectively that I decided to ditch my Powerpoint deck and use a slideshow from Eric Maeyer's S5. And for the first time, I gave my talk primarily in Tagalog, or the main local language here in the Philippines. (I normally deliver my talks in English). Fortunately it worked. 😀
Mozilla Student Reps leaders Joell Lapitan and Jun Barrun were also in the event, facing the students inquiring about Mozilla and the student reps program. Jun also took great photos of the Y4IT event.
One final note: Thanks to the support of Sarah Doherty, William Reynolds, Gen Kanai, and Seth Bindernagel for making the participation possible and awesome!
Photos: