Parse error
: syntax error, unexpected 'GoogleAnalyticsObject' (T_STRING) in
/home/mozillap/public_html/wp-content/plugins/promote-mdn/promote-mdn.php(171) : runtime-created function
on line
1
Warning
: preg_replace_callback(): Requires argument 2, '', to be a valid callback in
/home/mozillap/public_html/wp-content/plugins/promote-mdn/promote-mdn.php
on line
171
Parse error
: syntax error, unexpected 'GoogleAnalyticsObject' (T_STRING) in
/home/mozillap/public_html/wp-content/plugins/promote-mdn/promote-mdn.php(171) : runtime-created function
on line
1
Warning
: preg_replace_callback(): Requires argument 2, '', to be a valid callback in
/home/mozillap/public_html/wp-content/plugins/promote-mdn/promote-mdn.php
on line
171
Parse error
: syntax error, unexpected 'GoogleAnalyticsObject' (T_STRING) in
/home/mozillap/public_html/wp-content/plugins/promote-mdn/promote-mdn.php(171) : runtime-created function
on line
1
Warning
: preg_replace_callback(): Requires argument 2, '', to be a valid callback in
/home/mozillap/public_html/wp-content/plugins/promote-mdn/promote-mdn.php
on line
171
Parse error
: syntax error, unexpected 'GoogleAnalyticsObject' (T_STRING) in
/home/mozillap/public_html/wp-content/plugins/promote-mdn/promote-mdn.php(171) : runtime-created function
on line
1
Warning
: preg_replace_callback(): Requires argument 2, '', to be a valid callback in
/home/mozillap/public_html/wp-content/plugins/promote-mdn/promote-mdn.php
on line
171
Parse error
: syntax error, unexpected 'GoogleAnalyticsObject' (T_STRING) in
/home/mozillap/public_html/wp-content/plugins/promote-mdn/promote-mdn.php(171) : runtime-created function
on line
1
Warning
: preg_replace_callback(): Requires argument 2, '', to be a valid callback in
/home/mozillap/public_html/wp-content/plugins/promote-mdn/promote-mdn.php
on line
171
Mozilla Philippines Community and University of the Philippines Los Baños – Computer Science Society (UPLB-COSS) will be celebrating Summer Code Party on September 22, 2012 8:00AM to 5:00PM.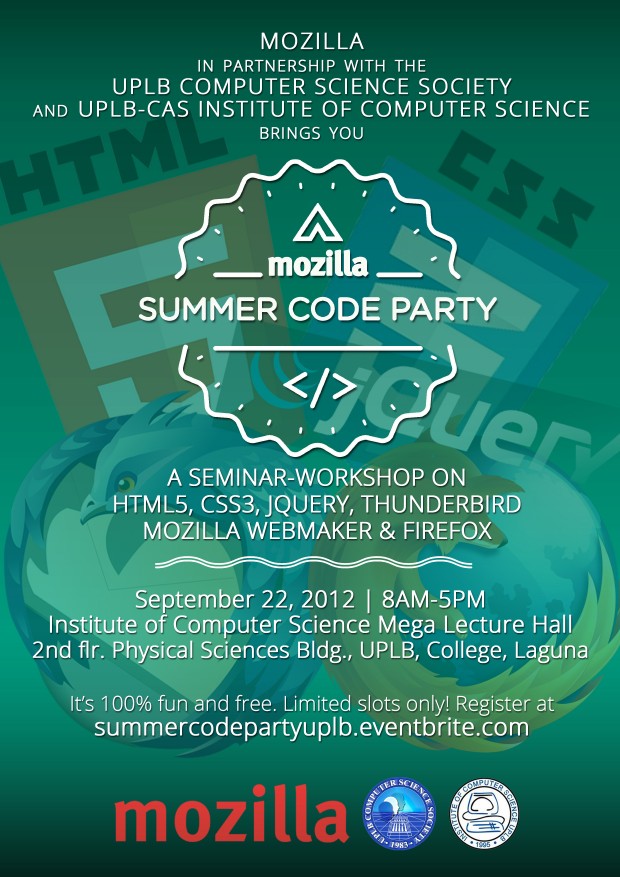 Register Here: http://summercodepartyuplb.eventbrite.com/
Location:
ICS Mega Lecture Hall
University of the Philippines
Los Baños, Laguna 4031
Philippines
What is Mozilla's Summer Code Party?
It's Mozilla's big summer campaign. Kicking off June 23rd and running all summer long.
It's all about helping people learn the basics of coding and the web by making and building together.
With tools, resources and events that make it easy and social. It's 100% free, open and fun.
Who should come?
Anyone who wants to learn the web, learn how to code and make stuff with new tools.
Registration period: September 10-20, 2012
Bring your own laptop See you! 🙂