The Localization (L10n) Team of the Mozilla Philippines Community (MozillaPH) is the oldest among the groups within the organization. As a matter of fact, the MozillaPH L10n has been around even before the community was formally established and officially recognized as what we know now as the Mozilla Philippines Community.
Tasks at Hand
The primary focus of the MozillaPH L10n team now is to finish the localization of Firefox (Aurora) for Desktop this year. Alongside, we are also doing the translation of Firefox for Android. For some good news, Firefox for iOS has been translated to Filipino already (kudos to all of our contributors to this endeavor).
But aside from the translation efforts themselves, we need to organize ourselves. There are a lot of tasks to be done within the MozillaPH L10n Team, to wit:
To establish an on-boarding process for new localizers (looking at the possibility of utilizing a MOODLE server for this purpose).
To create a Style Guide for translating to Filipino.
To create a Filipino Glossary for translating Firefox for Desktop, Android and iOS.
To establish a Termbase/s in Filipino.
You may track the progress on each of the tasks by checking on the team's Trello board.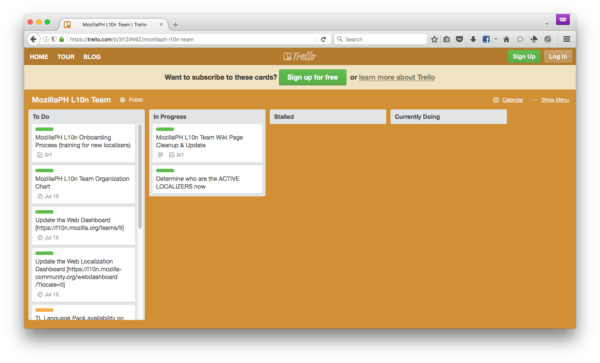 Be Counted as a Pinoy Localizer
The Philippines is not just big, it is also an archipelago. We know for a fact that we have Pinoy Mozilla Localizers from all over Luzon, Visayas, Mindanao and even from outside of the country. However, we only know most of our localizers by their Pootle usernames aside from those listed in the Team Wiki page, as we don't get to meet them in person often.
We would like to know more about the members of the MozillaPH L10n Team. If you are a former or active Pinoy Localizer, or someone new to Mozilla and is interested in participating to our localization efforts, we encourage you to accomplish the online form below.
Upcoming Events
I am hosting an L10n MozCoffee session on Thursday, 21 July 2016 at the Mozilla Community Space Manila (in Makati City) starting at 6:30PM.The event is open to all who wish to participate in the localization efforts of MozillaPH.
Please RSVP by securing an Eventbrite ticket below: