Parse error
: syntax error, unexpected 'GoogleAnalyticsObject' (T_STRING) in
/home/mozillap/public_html/wp-content/plugins/promote-mdn/promote-mdn.php(171) : runtime-created function
on line
1
Warning
: preg_replace_callback(): Requires argument 2, '', to be a valid callback in
/home/mozillap/public_html/wp-content/plugins/promote-mdn/promote-mdn.php
on line
171
Parse error
: syntax error, unexpected 'GoogleAnalyticsObject' (T_STRING) in
/home/mozillap/public_html/wp-content/plugins/promote-mdn/promote-mdn.php(171) : runtime-created function
on line
1
Warning
: preg_replace_callback(): Requires argument 2, '', to be a valid callback in
/home/mozillap/public_html/wp-content/plugins/promote-mdn/promote-mdn.php
on line
171
Parse error
: syntax error, unexpected 'GoogleAnalyticsObject' (T_STRING) in
/home/mozillap/public_html/wp-content/plugins/promote-mdn/promote-mdn.php(171) : runtime-created function
on line
1
Warning
: preg_replace_callback(): Requires argument 2, '', to be a valid callback in
/home/mozillap/public_html/wp-content/plugins/promote-mdn/promote-mdn.php
on line
171
Parse error
: syntax error, unexpected 'GoogleAnalyticsObject' (T_STRING) in
/home/mozillap/public_html/wp-content/plugins/promote-mdn/promote-mdn.php(171) : runtime-created function
on line
1
Warning
: preg_replace_callback(): Requires argument 2, '', to be a valid callback in
/home/mozillap/public_html/wp-content/plugins/promote-mdn/promote-mdn.php
on line
171
Parse error
: syntax error, unexpected 'GoogleAnalyticsObject' (T_STRING) in
/home/mozillap/public_html/wp-content/plugins/promote-mdn/promote-mdn.php(171) : runtime-created function
on line
1
Warning
: preg_replace_callback(): Requires argument 2, '', to be a valid callback in
/home/mozillap/public_html/wp-content/plugins/promote-mdn/promote-mdn.php
on line
171
Since I am here in Cebu City since yesterday (for a family getaway), I seized the opportunity to call for a MozCoffee with some of our community friends from this region.
As usual, the MozCoffee today was held at The Coffee Bean & Tea Leaf (CBTL), this time at their Terraces Ayala Center Cebu branch. Present at the informal gathering were Ruffy Heredia, Johnn Mendoza (not in the picture), and Bjornson Bernales.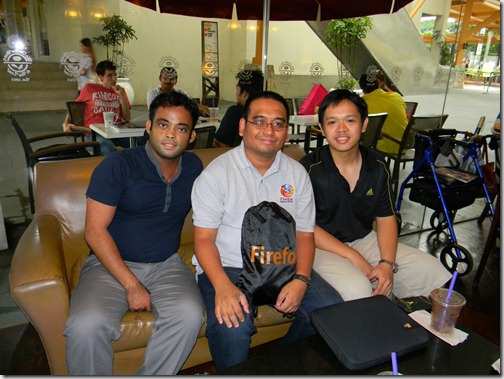 I briefed them on the updates about the community and the direction about L10n (localization). I also introduced the ReMo program to them, and who knows we might just have the very first ReMo from Cebu in the weeks to come?!
Until next time. I promised to bring the Pinoy ReMo's down there on my next visit to Cebu.